Are you looking for the best electric Fireplace? We've compiled a list of some of the most top-rated models currently on sale. These units are all affordable, easy to install and come with remote controls so that you can control your fire from anywhere in the room.
There is something here for everyone, from classic brick and mortar designs to sleek contemporary models. Whether you're looking for a traditional look or want your Fireplace to be the centerpiece of your living room, we've got it all covered. So sit back and enjoy as we explore some of history's most beautiful inventions: Electricity and Fire!
What is a Fireplace?
Is it a fancy way to say "campfire"? A modern-day luxury for the home, or an ancient tradition… The answer is all of the above. In this article, we will review the five best energy-efficient electric fireplaces that are sure to put you in the mood for wintertime! 
To make things easier, we compared the best electric fireplaces on the market right now and selected the top five based on size, features, and overall quality to assist you in making an informed purchase. These energy-efficient and safe heaters come in many different styles, so you can find the perfect one to fit your needs. Plus, they're a great way to add some extra style to your home.
5 Best Electric Fireplaces Reviews
The Duraflame 3D is a beautiful electric fireplace stove that functions as a space heater. It resembles a classic wood-burning fireplace with raised legs, a rustic finish, natural logs, and flames on the interior.
We like how you can see the flames and logs from three sides, so you can enjoy the ambiance no matter where you sit. The Duraflame 3D features a built-in heater, as promised, so you can enjoy the atmosphere while keeping warm.
It comes with remote control for your convenience. However, the remote is solely designed to control flames and switch on/off the Fireplace. If you don't like black, the Duraflame 3D electric stove comes in red, a modern-looking cream, and a relaxed neutral grey.
Pros
The design is reminiscent of a stove

Flames and logs that look real

The infrared heater provides warmth to a vast area

There're a variety of color choices
Cons
It has a remote control with limited functionality

The heater only heats a fraction of the space claimed
Final Verdict
If you want an electric fireplace stove that looks amazing, has realistic flames, and delivers a fair amount of heat, the Duraflame 3D is a great option.
You can either mount or recess the R.W.FLAME Electric Fireplace into the wall. Because of the thin design, either way of Installation works well. It won't protrude too much from the wall if you wish to mount it.
The cable plugs into a regular outlet, but you may have it hardwired for a more professional look, especially if you choose the recessed version. The flames appear to be extremely real. What's most impressive are the various color and brightness effects available.
There are five flame speeds, five brightness levels, and 12 flame and bed colors to pick from. It provides flexibility in modifying the Fireplace based on your mood or the time of day. The built-in heater has a heating capacity of 1500W, sufficient for small and medium-sized rooms up to 400 square feet. You can use the lower 750W level on hotter days or in smaller rooms.
What's more? If the heater becomes too hot, it has an immediate cutoff switch. You may set an auto-off timer if you're anxious about forgetting to switch off the heater when you sleep or go to work. You can easily access the features and setting this electric Fireplace offers using the remote control or the touchscreen control panel.
Pros
It's ideal for covering a large wall

Flames that are realistic and provide a variety of effects

There is a remote control included

For the ember bed, there are interchangeable logs and crystals

There's a heater built-in
Cons
It is not possible to recess it

Because heat is directed upwards rather than outwards, it takes longer to warm up a room
Final Verdict
Anyone seeking a sleek contemporary electric fireplace that can be installed on or recessed into the wall will love the R.W.FLAME 50-inch electric Fireplace.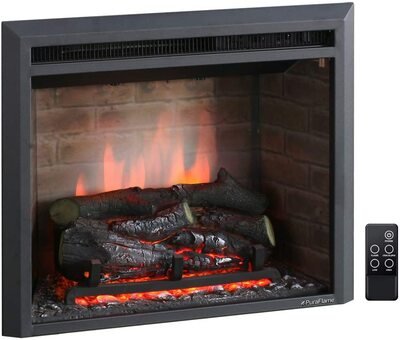 The PuraFlame Electric Fireplace is an energy-efficient firebox with an exquisite design and multi-function remote control. This model has a realistic flame with LED backlighting. It offers three brightness levels to create a realistic flame, alongside genuine resin logs and an ember bed. 
This Fireplace may be used with or without heat, making it suitable for any weather. This device can keep a 400-square-foot space warm and comfortable. It also allows you to switch between low and high temperatures.
The heater is simple to set up and use, requiring only 120V (in the United States). It's a safe electric fireplace for homes and offices because it features an anti-overheating feature.
Pros
It has an overheating protection feature. This implies that the heater will automatically adjust its temperature if it rises too high.

The heater can be utilized as a stand-alone unit or in fireplace surrounds. It will undoubtedly give a memorable experience for anyone in the room for a long time.
Cons
There are no obvious disadvantages to using the device. They're more of a safety net.
Final Verdict
The PuraFlame Western electric Fireplace is a sturdy device that you should consider if you require a quality heater at a budget-friendly price.
4. TURBO Suburbs TS17 Compact – Best Budget-friendly Freestanding Electric Fireplace
This small electric stove is ideal for individuals who want the comfort of a fireplace without the hassle of maintaining one. It creates no dust, ash, or smoke, and it has two heat settings: 750 watts and 1500 watts, depending on the amount of heat you need in your home. It is fire-safe around pets because there are no exposed flames.
The ceramic heating element produces infrared radiation, which heats objects rather than air, as standard space heaters do, so this heater will keep your room warm all day without drying up the air. The electric fireplace stove is light and portable, so you can easily take it from room to room.
It features an auto shut-off timer that you can set anywhere between one and eight hours, so it goes off when you're not around or asleep without you having to worry about forgetting to do so. The stove heater is already constructed (no assembly required).
Simply put it in, select your heat setting using the electronic touch screen on top of the unit, and sit back and enjoy some warmth. The unit's LED light panel produces realistic-looking orange/red flames, and it comes with remote control for added convenience.
Pros
There's no need to assemble it, and there are no open flames, so it's safe to use around pets.

Because of its modest size, it's ideal for small locations where traditional electric stove heaters could take up too much room.

In the package, everything is pre-assembled.
Cons
It cannot be utilized with a fan because of the significant risk of fire.

It is not suitable for larger rooms because it only has two settings and is small compared to other electric stove heater types.
Final Verdict
This compact type is ideal for smaller places where traditional electric stove heaters would take too much space. The absence of exposed flames ensures that dogs are kept safe. It heats items rather than air like standard space heaters, keeping your place warm all day without drying out the environment — ideal if you're on a budget yet need some warmth!
5. Touchstone 80028 – The Sideline Electric Fireplace
This Fireplace has an appealing black design that will give your area a contemporary feel. This is made to be installed in a wall. Touchstone's Sideline Recessed Mounted Electric Fireplace is 50 inches long and simple to install.
It includes a step-by-step approach that is simple to follow. There are two heat settings on this Fireplace: high and low. This can be used in the winter or on windy days. There are also heat vents, and the heat levels can be adjusted to your preference.
Touchstone's Sideline Electric Fireplace also features a realistic flame in three colors: orange, blue, and blue-orange. With its five settings, you can easily modify the glow. The heat and flame settings can be changed with the remote control. 
This Fireplace is a complete product that is well worth the investment. It also contains a false fire log and crystals to give you a more realistic feel. With 120V, it can run at 1,500 watts. This Fireplace can heat a 400-square-foot space. The device should be placed at least 12 inches below the ceiling.
Pros
The mirror finish is stunning

There's a heater built-in

Installation is simple 

Flame intensity can be adjusted in five different ways
Cons
The flames could be a little brighter
Final Verdict
We'll accept that this is a personal choice. The trendy black finish of most wall mount electric fireplaces appeals to certain individuals. Others enjoy the industrial look of stainless steel, while others prefer the look of white trim.
None of these finishes are available on the Touchstone 800028. Instead, it has a beautiful mirror finish, which we adore. The Touchstone 80008 is an elegant addition to any area if you don't mind a slight reduction in brightness.
Buyer's Guide – What to Look for in an Electric Fireplace?
Every room can benefit from an electric fireplace that doesn't require any ventilation. That's right; there's no need for a chimney. These aren't your grandfather's electric fireplaces with blazing plastic logs and a hot wire. 
Electric fireplaces are now available for wall mounting, stand-alone models with a mantel, old-fashioned stove variants, and even media center mounting. They have come a long way in technology and safety measures and now include LED flames to infrared heating.
The electric Fireplace's primary duty is to heat your space. I know it's shocking, but it's critical to understand some of the major key terms and options to pick the best fit that suits your lifestyle.
Forced Air Heat
These units blow air into a room after passing it across a heating element. Forced air heaters have come a long way in safety and technology, albeit they are not as efficient as infrared heaters.
Infrared heat
Infrared heat is produced by a quartz element that produces immediate heat that warms items such as you rather than raising the temperature of the air. This results in less energy use and practically instantaneous, gentle warmth.
Infrared fireplaces can heat up to 1000 square feet and do not need to be vented, making them ideal for supplemental or zone heating. What exactly is zone heating? I'm glad you inquired.
Zone Heating
The concept is straightforward. Zone heating keeps the areas you're in warm while keeping the rooms you're not in chilly. It's a fantastic method to save money on your utility bill.
Zone heating also enables you to decrease your thermostat, lowering your heating expenditures while maintaining a pleasant temperature in the rooms you use the most. The heat produced by electric fireplaces is measured in British Thermal Units (BTUs) when heating. 
The amount of work (or heat) required to raise the temperature of one pound of water by one degree is measured in BTUs. Because water is more difficult to heat than air, fewer BTUs are required to heat a room.
Watts are also commonly mentioned to indicate how much electricity the Fireplace consumes when producing heat. Make sure you don't mix them up. The wattage refers to the amount of electricity consumed rather than produced.
As a result, we recommend you opt for an electric fireplace with a lower wattage and a higher BTU rating while buying. Because of their low wattage, most electric fireplaces can be powered by a conventional 120-volt socket (about 1500 watts); this makes them far more energy-efficient than wood-burning fireplaces.
The absence of real flames in an electric fireplace minimizes the risk of sparks starting a fire or causing burns from hot fireplace grates. Electric fireplaces currently stay cold to the touch while heating your room due to the nature of infrared heat.
Consider How And Where You'd Like To Incorporate Your Electric Fireplace
There are various ways to install an electric fireplace inside your home so that it fits and looks just how you want it to. Some systems require some setup; in the meantime, you may always choose a basic electric fireplace that can be incorporated right into your TV stand's media cabinet.
To simplify things, there are five primary options and methods for installing an electric fireplace: Built-in, recessed, wall-mounted, inserts, and TV stands 2. Built- As if it were a real fireplace, your electric Fireplace could be placed straight into the wall of your home. 
This is a terrific option if you want to start from scratch and build a new home or if you simply want to renovate your home.
Frequently Asked Questions (FAQs)
The Round-Up
You're almost an expert in electric fireplaces if you've made it this far. Based on our extensive research, the Touchstone 800028 electric fireplace is our top pick for the best electric Fireplace.
It's a lovely wall-mounted fireplace that'll look great in almost any room. This is ideal for those wishing to add a tiny but powerful fireplace to their living area. 
Conclusion
When looking for an electric fireplace heater to fit a given location, choosing the proper type is vital. When determining which electric Fireplace is ideal, many more factors to consider, like heating power, size, Installation, and style.