Winter can most times hit extremely hard, especially for residents in places like Alaska, North Dakota, and other states in the US that experience winter to the fullest. In moments like this, the freezy temperature makes most offices and homes icy.
The good news is, you can create an optimum temperature that allows you and your family to enjoy the moment to the fullest. All that you need to change the game around is an Energy Efficient Space Heater. This heater is built to supplement an HVAC Heating System and present you with an affordable but durable and safe way to keep your home enjoyable through the winter.
In this guide, we shared all the necessary information needed by anyone who wants to get the best deal at an affordable price. We've cherry-picked some top-rated models, and back-tested them, curated a comparison table with an unbiased review to help you make the right choice within the shortest time frame. So without further ado, let's dive into this and take a look at some top picks we recommend.
7 Best Energy Efficient Space Heaters
1.
Dyson AM09 Fan Heater
–
Best Energy Efficient Dual Purpose Heater 
The Dyson AM09 is designed to distribute heat evenly. The device is built with a sleep timer, a magnetized curved remote control and works flawlessly with no spinning blades. It uses an Air Multiplier Technology to provide your home with an unending stream of uninterrupted airflow.  
Once it is switched to the heat mode, the intelligent digital thermostat automatically regulates the temperature of the device by preventing the room from overheating. The presence of this feature makes it more energy efficient. The absence of visible heating elements like spinning blades makes it suitable for homes with young kids.
When we back-tested most of the products reviewed on this list, the Dyson AM09 stands out with unique and exciting features. It's pretty difficult to fathom that the device is a room heater, due to the ergonomic design, especially for those seeing it for the first time. But the fact is, it is what is!
One of the most amazing features we find interesting is that the device can either cool and heat up your room. This dual feature makes it a bit expensive, but as always, it's important to invest once and for all in devices, and this model is a no-brainer for anyone who wants to.
A timer and thermostat make the device suitable when used at night; it is built to give users the confidence that it can automatically control its performance when left to work all night. 
This will give you the confidence that the device will look after itself while you're fast asleep. This model is an improved version of AM05; it is crafted to decrease turbulence, which means your abode will be warm with less noise.
Product Specifications
8.03 x 6.02 x 23.4 inches
Pros
Amazing Design

Dual functionality: Heat and cool

It comes with a timer

Absence of blade or heating element

It comes with an intelligent Digital Thermostat
Cons
It is expensive compared to most models.
Bottom Line
We rate this as one of the top-rated and most efficient heating devices that is suitable regardless of the season (winter or summer). What else can you expect from a brand like Dyson than a professionally designed device? It is expensive, but it is worth the investment. 
2.

De'Longhi Mica

–

Best Energy Efficient Heater for Optimum Performance 
This space heater can convert 1500 watts into heat energy and comes in a functional and stylish design that makes it perfect regardless of the size and settings of your room.
It has a wall mount option that makes it easy for you to use it in multi-directional or large rooms without occupying the space on the ground. The heater uses a micathermic technology to distribute heat evenly.
It comes with a thermal shutoff designed to regulate and prevent your room from overheating. The portability will allow you to use this device anywhere in the room, regardless of the size and space available.
The device supplies both radiant and convection heat and hit its maximum operational speed in 60 seconds. The three heat settings are grouped into a basic low 750 watt and a basic high of 1500W power modes. The thermostat allows it to monitor your room's atmosphere and adjust accordingly to maintain an optimum temperature.
It comes with caster wheels for easy mobility; however, you can detach the wheels and mount them directly on the wall. This feature makes it more versatile and efficient when used in a limited space.
It is built with a thermal cut-off designed to control the heater from overheating, a power and caution light with an automatic tip-over switch. The absence of a fan makes the device run with less noise.
Product Specifications
Pros
It comes with an inbuilt thermostat

Two energy settings

Portable design

Noise-free

Overheat protection

Micathermic technology.
Cons
Bottom Line
The Micathermic Technology gives the heater a portable profile in terms of distributing heat even in the room, while the smart Technology gives it an edge as one of the best technological space heating appliances. The durability is worth checking out. 
3.
Lasko 755320 Ceramic Space Heater
– Best Affordable Energy Efficient Heater
Lasko is yet another model that is worth your investment; it is a  durable and uniquely designed product that gives off the best in terms of value and package.
This heater occupies a small portion of space; it comes with an electronic control regulating temperature. The temperature control feature allows you to cut down costs by saving energy.
It has a programmable thermostat with dual heat settings designed to retain the optimum temperature in your room. The 7-hour timer might not be the longest, but the fact is, it's no match compared to most models.
What else would you want than a space heater you can easily control from a distance using a remote. With this device, your kids and pets are safe while playing around; it comes with overhead protection that controls the device from getting too hot.
If this paragraph doesn't make this worth considering, then the fact that you get a heat power of 1500 watts should call your attention.
Product Specifications
Pros
Portable design

Self-timer

Remote control

Overheat protection
Cons
It has a maximum heat power of 1.50 kW
Bottom Line
Super portable size with unique and exceptional performance. Very efficient when it comes to keeping your room warm and saving energy. You can be sure to distribute heat to all the rooms using a safe and easy-to-use device.
4. DeLonghi DCH7093ER Ceramic Heater – Most Energy Efficient Space Heater
This comes with an ergonomic handle, an elegant shape; it is lightweight and warms up in a couple of seconds to supply enough heat. The device comes with a foot pedal designed to activate a motorized oscillator and promote air circulation across the room.
It's energy-efficient and will help cut down costs by 20-40%. It has a timer, an adjustable thermostat with multiple heat settings to promote comfort. This space energy-saving heater is built to distribute heat evenly and efficiently.
Most heaters we reviewed are built with two heat settings; however, this model comes with three settings: low, medium, and high settings. This feature distinguished it in terms of performance. 
It can be programmed to run in two different settings within 24 hours; this makes it easy to set the device to a specific temperature during the day and a different temperature at night.
The thermal tunnel produces warm air and maintains an optimum temperature, making it suitable when used in homes with kids.
Product Specifications
Pros
It comes with remote control.

The device has three different heat setting

Less noise

Recommended for homes with pets and kids

24 hours timer

It automatically turns off once it overheats
Cons
Bottom Line
The paradox here is that the model is pretty expensive, but it saves you the extra cost of electrical bills since it's energy-efficient. This feature makes it fit when it is used all night and day. 
5. Dr. Infrared Heater DR-988A – Best Energy-Efficient Portable Heater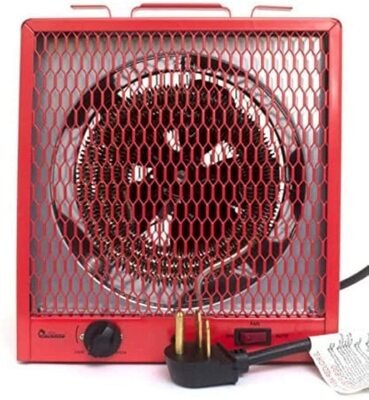 This device is recommended for construction sites, the basement, garage, and workshop. It comes with a unique heating element housed in an attractive design with an adjustable thermostat that can be regulated from high to low and vice versa.
The sturdy design makes it suitable for industries. It uses infrared technology to distribute heat evenly around the room in less time; this makes it very suitable for large spaces.
It transfers heat directly to fixtures present in the room, using radiation. This process is completely different compared to what you get from most conventional heaters. 
Since it distributes heat using infrared, this means your room is kept warm and fresh. Both the fan and heating elements are inbuilt; this makes it safe when used in homes with pets and kids.
The device has an overhead guide and a tip-over protection system; this feature shows that the manufacturer has safety as one of its topmost values. It comes with an InfraRed remote control, a thermostat and can be switched to an automatic energy-saving mode.
Product Specifications
Pros
Durable, Fast, and Efficient

Tip-over & Overheat Protection

Digital Thermostat

The product has a 3-year Warranty

Produce less noise

It has a Remote Control
Cons
Bottom Line
This product is pretty efficient and durable in terms of performance. The model will heat your abode in no time and help save the cost of the power supply.
6. Stiebel Eltron CK 15E – Best Energy Efficient Wall Heater
Stiebel is rated among one of the most reputable German companies known to produce durable energy appliances. The Model CK 15E is not an exception to this fact since it is manufactured by Stiebel. The heater is very reliable and effective in distributing heat rapidly.
The device fits within a small space and attached directly to the world; it comes in a minimalist design that perfectly fits the settings in a room.
It comes with an inbuilt thermostat, frost protector and timer, and other standard features of an efficient energy heater. All the features are designed to help save the cost of energy consumption.  
While on maximum setting, It operates with less noise. One of the amazing features that attract buyers to this product is the three-year warranty; this fact should boost your confidence knowing that the product is a sure investment.
Product Specifications
4.81 x 13.19 x 18.13 inches
Pros
1500 watts

Portable and sturdy design

It comes with an inbuilt thermostat

Even and fast heat distribution

Produces less noise
Cons
Bottom Line
This space heater is a product from a reputable brand that has set up landmarks in quality production. The product is a bit pricer, but you can be assured that it's worth the investment.
7. Oscillating Space Heater – Best Oscillating Energy Efficient Heater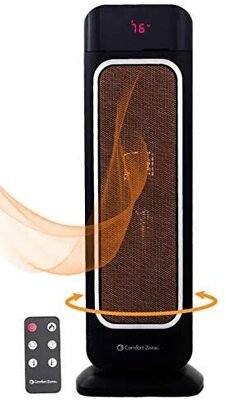 This is a true definition of durability and efficiency. The product uses a forced-fan circulation mechanism to rotate from one side to the other while distributing heat evenly within a space and maintaining an optimum temperature.
It has a protection sensor and a fail-safe unit designed to cut off the power unit once the device is tipped over. It comes with a digital thermostat that helps to control stuffiness and overheating.
The auto-shutoff makes it easy for you to program the device and maintain a particular temperature. You can use this device for years and spend little from your paycheck in terms of electrical bills.
The energy-saving ECO mode gives it unique efficiency that helps you cut down the cost of energy. The portability makes it fit when used on a road trip.
It serves better when used in offices and bedrooms. However, we also recommend this for large rooms, homes with large families, or where the floor space is limited.
Product Specifications
Pros
Durable

Eco-mode

Very portable

Digital thermometer

Remote control

8  hours timer
Cons
Bottom Line
This bad guy is one of the most efficient electric heaters that are worth checking out. It has a safety feature and a timer that gives you an edge to use it overnight. Regardless of the size and shape, you stand a chance to benefit more and save yourself from racking heavy monthly electric bills. 
Features to Consider When Buying A Energy Efficient Space Heater
Energy-saving heaters are suitable when used close to a lounge chair or underneath a desk. The space heater you intend to go for should suit the room size or have the capacity to produce and distribute heat that will circulate the entire room evenly. Below we shared some of the basics you need to look out for before making a purchase.
Your Heating Needs
The rule of thumb is to go for space heaters designed to produce 10 watts of energy power on each square foot.
For example, if the space you intend to use the heater on is a 100-foot by 12-foot room, then you will need a 1200-watt space heater. The larger the room you intend to heat, the stronger the heater recommended.
Other considerable factors that may influence a heater's performance include the number of windows, the nature of the wall, the height of the ceiling, and the number of furniture. 
Safety
Of course, safety should be your ultimate priority, especially for homes with kids and pets. Stats has it that over 25,000 American homes are exposed to fire outbreaks caused by space heaters each year.
So, it's smart to go for a space heater with an additional safety layer to reduce potential risk. Most brands are built with an extra safety layer to play once the heater unit gets overheats or knocked over.
Additionally, there are space heaters with exterior cases designed to secure and keep the units cool. Some of these models have motion sensors that automatically turn off the heater once a kid or pet comes close.
Energy Efficiency 
One of the most important features to look out for before buying a heater is efficiency. The fact is no one wants to rack energy bills. Unlike most heating appliances, a space heater is not tested by the Environmental Protection Agency (EPA) nor rated by Energy Star; these are among the major reasons why the device is recommended to supply heat energy with less power consumption.
Noise Level 
Comfort goes a long way too! Most space heaters are designed to run with less noise; however, if you go for space heaters that use oil emit or infrared, they emit zero noise, unlike most conventional space heaters that come with fans and emit noise when used indoors. 
Also, you can check best kerosene heaters to heat your home in winter.
How to Stay Safe When Using an Energy-efficient Electric Space Heater?
1. Position Heaters on the Right spot
Place the space heater in the right position, ensure it on a sturdy and flat surface three feet from upholstery, bedding, furniture, rugs, or anything flammable. Avoid using heaters on high-traffic areas like doorways; this will help reduce the risk of getting your child or pet burnt.
2. Plug on a Powered Outlet
Plug the heater directly on an electrical outlet with enough capacity to power the device. Avoid using an extension cord; this can lead to overheating, electric shock, and fire.
3. Regular Maintenance and Inspection
Regular maintenance and inspection are required occasionally; clean and maintain the device to ensure it is working properly. Once it shut down, unplug it and allow its parts to cool off. Use a cloth to wipe off the exterior to remove dust and allergens that are likely to disperse in the room.
4. Turn Off and Unplug
It is important to turn off the space heater and remove it from its plug. However, some models come with a self-timer program that automatically turns off it once you are away.
Tips for maintaining a Space Heater
Heater, when used rightly, can be of great benefit to the entire family, but the reverse is true when handled with less care. Below, we shared some effective tips on how to maintain a space heater.
Don't leave Heaters Running Alone
Most space heaters are designed to be self-operated, but one of the best ways to prevent fire outbreaks is to check out the performance when the heater is running. Ensure your pet and kids are three feet away from the device; this will help prevent them from accidents.
Avoid Flammable Objects
Observe the "three-foot rule." Avoid placing flammable objects close to the heater; this can take the form of bedding, furniture, papers, paint, matches, curtains, and other objects.
Keep It Away From Water
Water blending with electricity is extremely dangerous. So it's advisable to keep space heaters away from bathrooms and kitchens.
Always on the Floor/Wall
Except you're lying on the floor; avoid placing heaters in different positions aside from the floor. Avoid placing it on a stool, shelf, or bench made from wood. Placing the device on these surfaces increases the risk of the heater tipping over, which can most times lead to a fire outbreak.
Energy Efficient Space Heaters vs. Normal Space Heaters
The answer here relatively depends on the size of the room you intend to heat. If you want to heat one or two rooms, space heaters will be more economical than a central heater. However, if you want to heat the entire room, we suggest going for a conventional heater recommended by the United States Department of Energy.
People Also Ask
Which one is the most energy efficient space heater?
Dyson AM09 Fan Heater is a model that is powerful and durable enough to produce and circulate enough warm air across your room; the good news is, it comes with enough safety features. It is suitable for use regardless of the time and season of the year. We see this as a one-time purchase and bet you and your family will enjoy the value it has to offer. 
Conclusion
Of course, there is so much to consider before buying an Energy-Efficient Heater. However, one of the most effective ways to get around this is to compare the product specifications and the model; this will help you establish a real fact on which product is worth your investment. 
Afterward, another factor to consider is the space available to ensure it is secured and placed within the right location. You can also consider reviews from other buyers who have shared actual ideas on their personal experience with the product you intend to buy. 
Undoubtedly, going through the above steps can be rigorous, but the good news is that you can get the best deal as you read through this piece. Choose from any of the above reviewed Energy Efficient Heater, and we bet you won't regret it! 
Might be useful in winter: Best 50 gallon Gas water heaters