Winter is leaving everyone frozen and with every passing day, it is getting difficult to sustain the chilly winds. As soon as the winter enters, we look for ways to keep ourselves warm. If you are to invest in something that can keep you warm all through the winter, you have to look for something that can last longer rather than something that is temporary. That is when heating a garage comes into the picture. Heating a garage is not a difficult thing to achieve and can also be done at an affordable cost. If you use your garage as a workshop you can somehow trespass this cold weather without hassle. If you are new to this concept or not well-versed with it, give this article a good read. We are here to help you with heating your garage.
How to Heat a Garage for a Complete Year Use?
There are multiple ways to heat the garage in the winter to escape chilly winds. Along with the ways, we also tabulated the pros and cons associated with them. After going through all the ways we have suggested here, you can come to a decision on which way to opt for your garage.
1. Install Better Insulation
We will first tell you the cheapest way to heat a garage. Insulation is the cheapest and best way to heat a garage in winter. Install better insulation methods for your garage by keeping your garage at a minimum temperature. Insulate your garage door and windows and weather-stripping exterior doors. By doing this, you can keep yourself warm all through the winter in your garage. The interesting part about this insulation method is that it can be installed by yourself without professional help. For the DIYers installing the insulation is not a big deal.
Pros
You can get the weather stripping and insulation done at a very cheap price.
No costs are included further.
Very easy installation.
Cons
The insulation method is not suitable for places where temperatures fall below 0 degrees.
You cannot keep track of the exact temperature in the garage.
2. Electric Space Heater
The simplest way to heat a garage is by using an electric space heater. Yes! If you stay in a
place where temperatures fall pretty low, electric space heaters can come to great use. They are big and are very effective in generating heat in the given space. By installing an electric space heater in your bedroom, office room or living room, you can maintain the space warmer. The electric space heaters can be installed either on the floor or the ceiling.
When it comes to installing an electric space heater, it is as easy as plugging a charger. All you need to do is find a dedicated place for the space heater and install it there. We recommend our readers go for an electric heater that comes with a thermostat. The thermostat featured electric heaters are safe to use and consume less electricity.
Pros
Doesn't consume more power and thus no long electric bills.
Can also be installed in houses.
Doesn't require ventilation.
Cons
Takes a long time to heat a garage
A garage with few outlets may not be a perfect choice to install an electric space heater.
Less effective in an uninsulated garage.
3. Combustion Space Heater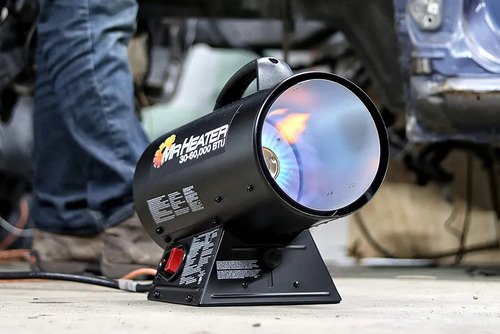 Combustion space heaters are a traditional way of heating the garage. They rely on fuel like kerosene or propane to generate heat. There are a variety of combustion space heaters that run on different fuels. You can get a combustion space heater that can operate on any fuel source. It can be installed by a newbie without any prior knowledge. Just choose a place and start a fire. However, the combustion space heaters should always be used in rooms with good ventilation. The combustion heaters release carbon monoxide into the air, which can be dangerous.
Pros
The fastest heater for a garage you can ever come across.
Nothing to do with the power cuts.
Very affordable alternative to electric space heaters.
Cons
Noisy
Fuel odour makes one feel uneasy
The combustion releases moisture which may rust the vehicles when operated for a long time.
4. Ductless Mini-Split System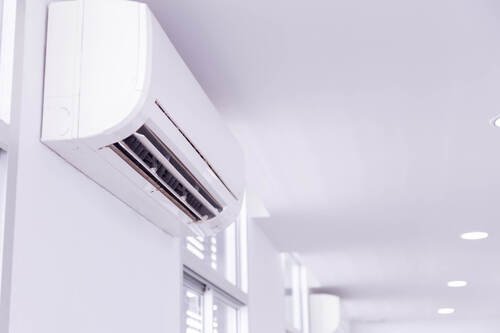 If you are looking for an easy way out to heat your garage, then look no further than this Ductless Mini-Split System. It is like an AC where the air-handling unit is installed inside the room and the compressor, outside the room. They are connected through a conduit. This Ductless mini-split system should be installed by a professional.
Pros
Flexibility in fixing. Can be placed just anywhere from floor to wall or the ceiling.
Can be controlled with a remote.
The mini-split system works as a cooler in hotter temperatures.
Cons
Little on the expensive side.
The filter must be cleaned regularly to avoid the led-up of dust.
May not provide you with enough heat in extremely cold conditions.
5. Radiant Heating
Radiant heating systems can be installed either on the floor, walls or ceiling. As the name suggests, the system uses infrared radiation to heat the surface. You can find a lot of radiant heaters online that can be installed in different places. You better look for yourself online to get a good idea about them. This radiant heating system should always be installed by an experienced professional.
Pros
The operating cost is pretty low.
Not at all noisy.
The surface heating method heats the space more evenly than other methods.
Cons
Installation is a little expensive.
Moisture develops in the place where the system is installed.
Conclusion
Heating a garage in winter is a great idea, but make sure to consider all the safety options with the heater manufacturers before installing any of the aforementioned methods into your garage. Safety should be your primary concern when installing heaters into a garage. Look through all the five methods we have suggested above and go for the one you think is apt for your garage. Hope you have a warm winter this time!