As the climate is never under the control of humankind, having a water heater is an absolute must. In the present day where every single person is busy as hell, it is not possible to manually heat water. The process of heating water manually not only takes time but uses up a lot of resources. Having a heater fitted saves a lot of your time and energy in trying to heat up water manually. 
Best 50 Gallon Gas Water Heater Reviews
A 50-gallon gas water heater is a perfect size and if you are looking for some top suggestions for heaters in this category, this is the right place. In this article, we will be looking at the top 5 best 50-gallon gas water heaters. This is a comprehensive review containing pros and cons as well as other comparisons to help you make the right decision.
The A.0 Smith XCR-50 ProMax Plus is a really good water heater that will last for quite a few years. The electronic gas valve in this water heater uses a thermopile for the generation of power which will later be used for the operation of electronic gas, so there's no need for external power. 
The installation process is very easy and you can get it done yourself as well. If you are concerned about any possible corrosion, do not worry because the A.0 Smith XCR-50 ProMax Plus is diamond glass-coated and provides extreme protection from corrosion. The microprocessor inside the water heater leads to a more precise and fast response time. 
A.0 Smith XCR-50 ProMax Plus is an amazing option for a family of 3 or less because of the electronic gas which is self-powered and a two-pipe combustion system. This water heater can hold up to 50 gallons of water (of course). 
This thing weighs around 180 pounds and has dimensions of 22 x 22 x 57.25. The vent gas water heaters can be installed anywhere around the house as they are capable of easily venting up to 40 feet. A.0 Smith XCR-50 ProMax Plus takes air in from the outside so there's no need to worry about indoor ventilation problems. 
Coming to the warranty part, it has a 10-year limited tank warranty and a 6-year limited warranty for the parts. 
Pros
The special venting system brings the air in from the outside so there is no chance of ventilation problems on the inside.
Simple to install and can vent up to 40 feet.
Has a self-powering valve that provides enough power for getting the heater started.
Cons
There is a chance of possible leakage issues.
People seem to have issues with the warranty claims due to possible bad customer service.
Not the best option for commercial use.
Final Thoughts
This is a pretty good option for smaller families and doesn't require any major skills to set up. The diamond glass coating makes it extremely resistant to corrosion. As said earlier the overall quality and features are good (we'll get into the downsides in the cons section). 
2. Westinghouse WGR060NG076 97 – Ultra-High Efficiency Heater with Durable Stainless Steel Tank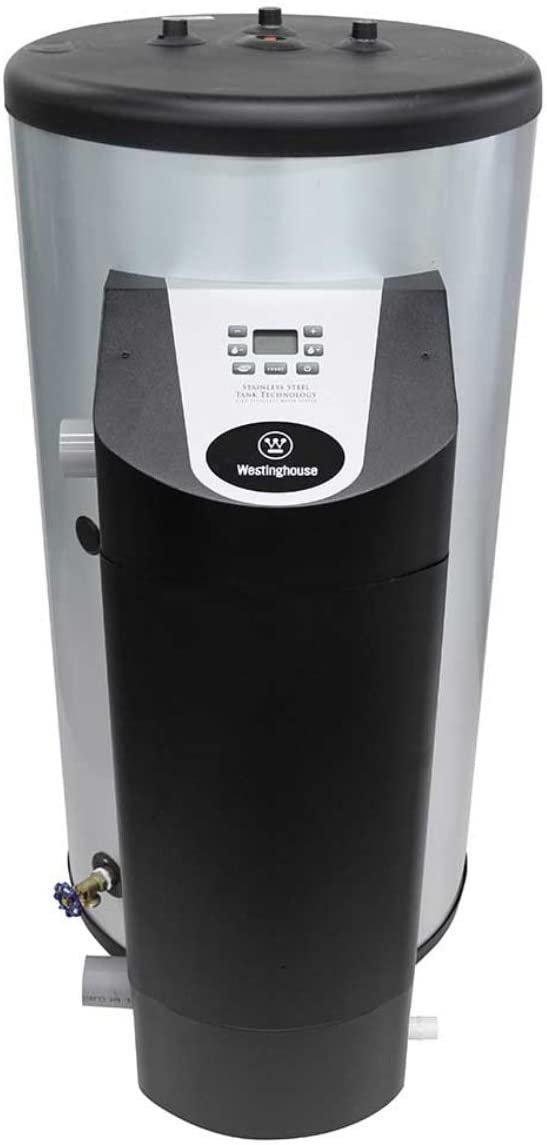 First off, the appearance of this water heater is absolutely wonderful and is the definition of sleek. The faux stainless steel material is the one to appreciate the amazing appearance. It is durable and strong and will serve your needs for a long while. This water heater shows a 97% thermal efficiency which means it can work with high efficiency while consuming less energy. 
With the Westinghouse WGR060NG076, all of the users can enjoy the 140-gallon first-hour rating which means you can always enjoy the high-speed flow. You can control the heating element with the digital thermostat that's available. There are a ton of control features so you have the ability to decide the outcome of the water. 
The LCD display features can easily be figured out and you can turn on the eco mode for consuming lesser fuel. 
Pros
97% thermal efficiency.
The control features are easy to use.
A 140-gallon first-hour rating.
Cons
This is not necessarily a con but the price of this item is a little bit on the pricier side. 
Final Thoughts 
Overall, this is an amazing product that can serve the needs of a family containing around 4 to 5 people. It is sturdy and strong and will last for a while. 
3. AO Smith GPVT-50 – Perfect Choice for Residential Purpose
There are 2 dip tubes present in this product to ensure the safety of the user. The installation process is super simple and the 3 positions rotatable bowler outlet adds to the simplicity. The core on the inside of the water heater is supported with stainless steel. Coming to the natural gas input, you won't find anything crazy but it has a decent level of natural gas input of 50000BTU per hour. 
The amazing part about the water heater is that it has a good recovery rate of 50 gallons per every 90-degree Fahrenheit rise in the temperature. The product weighs around 192 pounds and has a limited warranty of 6 years. It has an aluminium anode rod rather than a steel anode which gives a higher amount of protection against corrosion. The product is durable and a good residential water heater in general. 
Pros
The materials used are strong and of good quality.
Has a 3 position rotatable bowler outlet.
A brass drain valve has been used instead of the typical plastic drain valve.
Cons
According to a few reviews, there is a slight chance you might face a leakage issue.
Final Thoughts 
If you are on a small budget and are looking for a sturdy and reliable gas water heater, this is one of the best options you can go for. It is very strong and doesn't take much effort to install. And as mentioned earlier, the product comes with a 6-year limited warranty. 
This product has a 36,000BTU per hour and provides the perfect amount of hot water to serve the needs of a family containing 4 to 5 people. The ignition is carried out through the push button which is a way safer and easier way of starting up. This water heater makes use of a free combustion air intake system which basically means that you won't have to deal with the issue of replacing and cleaning filters. 
Higher tank life is maintained with the use of a patented magnesium anode rod design which acts as an amazing resistor and avoids the tank from getting rusted. Coming to the warranty, you get a 9-year warranty on the tank and other parts and a 2-year labour warranty. And there is no need to stress over maintenance costs as there are no filters. 
Pros
The use of patented magnesium anode rod design to reduce the risk of corrosion in the tank.
This water heater is very easy to install and use.
It can deliver up to 77 gallons of ample hot water in the first hour.
The free combustion air intake system doesn't require any filters.
Cons
Consumes a little high power.
Final Thoughts 
The product is wonderful and serves its purpose of being a good water heater for home needs. A family of 4 or 5 people can find the perfect amount of use for the product. 
Might be useful: New Furnace Installation and Replacement Guide
Factors to Consider while Choosing a 50-Gallon Gas Water Heater
Buying a 50-gallon water heater is not a cheap thing nowadays and when making such a big investment, there are a few things you should consider to make sure that you are making a good purchase. 
First Hour Rating
The first-hour rating is an important aspect to consider before making the final purchase. The first-hour rating of a water heater is the number that tells you what amount of heated water is being put out with a completely heated tank. Though the heater you've purchased has a capacity of 50 gallons, it will not deliver 50 gallons of heated water. In usual cases, you'll receive 70% or 35 gallons of water. This mainly happens because as heated water is being drawn from the tank, the water is replaced with cold water. 
When the water heater technology is high, you will get a higher first-hour rating. Make sure that the rating is closer to the amount of heated water your family will need in its peak usage time. 
Check the Warranty 
Do not be among the people that think there's no need for a warranty because you're purchasing a new water heater. Whether your purchase is new or old, a warranty is always important. Though there is a lower chance of issues arising in the initial periods of purchase, you may find the warranty helpful after a few years. 
If you are not sure about the complete meaning behind the word warranty, it is just the manufacturer standing by their product. In case you find that the water heater has a short warranty with a lot of aspects not being covered under the warranty, this is a clear signal that the manufacturer is not confident in their product lasting a long while.
Depending on the value and the type of model, various warranties are available. For a 50-gallon gas water heater, anywhere around 6 to 10 years of warranty is the standard. Along with that, some manufacturers provide other warranties like labour warranties, etc. 
In a few cases, your warranty depends on whether or not the water heater has been installed by the company's professional. Check if this is the condition and know everything upfront before having your installation carried out. 
Energy Efficiency
According to reports, a water heater around the size of 50 gallons takes up 18% of the overall energy consumption of the house. With that said, the energy efficiency of your water heater is something worth considering. Most of the new water heaters nowadays come with a bright yellow sticker that has most of the information regarding this aspect. 
You will find information like the estimated annual operating price and other important stuff regarding the particular model of water heater you have chosen. The energy efficiency numbers of the model can be found on the official website of the manufacturer. 
Top Pick

Our overall pick is A.O. Smith XCR-50 ProMax Plus High-Efficiency Gas Water Heater, 50 gal. This product is both moderately priced and has some impressive features too. Read the review mentioned above to get a better idea about why the product stands out to us. If the price is not an issue, Westinghouse WGR060NG076 97-Percent High-Efficiency Gas Water Heater with Natural Gas, 60 gallon is an amazing option as well. There is no right answer to which is the perfect product, but make sure that your pick fits your personal needs properly.
Conclusion 
Now that we are done with the reviews of some of the best gas water heaters, it's time to make the final pick. Though all of the products here are amazing by themselves, you might find it difficult to make a choice. So, here is our top pick out of all of the products in this article. 
You May Like: How to Properly Install a Pellet Stove